Being the closest Holiday Park to the beach, we are the only Park to boast its own footpath to Woolacombe beach.
Footpath to Woolacombe Beach
There is no need to use your car when you can walk to Woolacombe beach via the footpath which takes about 15-20 minutes. Walk through the North Devon countryside and say hello to the horses in the field as you pass by. There is another walk to Woolacombe Beach via the enchanting 20 minute walk through National Trust land that brings you into the heart of Woolacombe Village and the beach.  Please ask reception for details.
Woodland Walk
A must for keen ramblers, the tranquil woodland walk takes you through woodland with far reaching countryside views, wonderful wildlife, trees and wildflowers. This walk is a family favourite!
Dog Exercise Area
A must for all dog owners, this area is dedicated to our four-legged visitors. Wear them out ready for a nice long sleep! The Dog Exercise Area can be found at the end of Avenue A.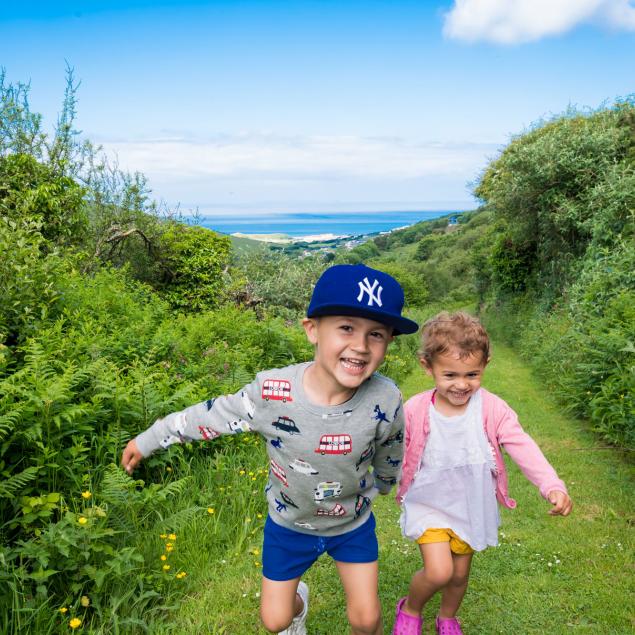 Coastal Walks
Woolacombe offers a variety of different coastal walks, each with it's unique viewpoints and stunning surroundings, all at different intensities.
Woolacombe Warren and Beach Walk
Enjoy walking a stretch of the beautiful South West Coast Path on this route that passes through the rugged sand dunes at Woolacombe Beach. This moderate intensity circular walk is perfect for looking for beautiful wild-flowers and bird life, especially in the summer. 
Potters Hill and Woolacombe Down Walk
Enjoy this moderate intensity walk up Potters Hill to enjoy stunning views across Baggy Point and Morte Point. You'll also have plenty of time to enjoy the beautiful views over Woolacombe from Potters hill. 
Find out more

For more walking information, click here or pop into Reception and ask for printed copies of all the walks available in the area! 
Woolacombe boasts some of the countries best coastal paths which can all be accessed from your holiday home or pitch at Woolacombe Sands Holiday Park.