Welcome to the Hub of Woolacombe Sands Holiday Park!
From 19th July 2021, the Rendezvous Bar & Clubhouse will still continue to operate using table service and online ordering.  Face Coverings are no longer mandatory, however we politely encourage that face masks are worn in crowded areas.
When entering the Bar & Clubhouse, please find a table and make a note of your table number to place your drinks order online using the QR codes on each table. Alternatively, we ask that one member from each group approaches the bar & food bar to place an order and our friendly team will deliver to your table.
Unfortunately, tables cannot be reserved and we are operating on a 'first come, first serve' basis.
In the evening everyone heads for The Clubhouse for a great night of family entertainment, music, dancing, first-class cabaret, bingo, game shows and quizzes. This is the perfect rendezvous to unwind, have a drink at our well-stocked bar and make new friends, and if you feel like something to eat, there is a good selection of hot and cold food dishes at the food bar and takeaway.
The Perfect place to Unwind...
There is a comfortable indoor dining area, and relaxed comfy seating areas to sit, relax and enjoy the entertainment. You can walk out of the club straight into the new sun terrace where you can relax outside, taking in our breathtaking views over Woolacombe.
Live cabaret is on every night throughout the season, and Woolly Bear visits every night to say hello! Well behaved dogs on a lead are welcome in the clubhouse.
Check out the 'What's on' Page for daily entertainment information.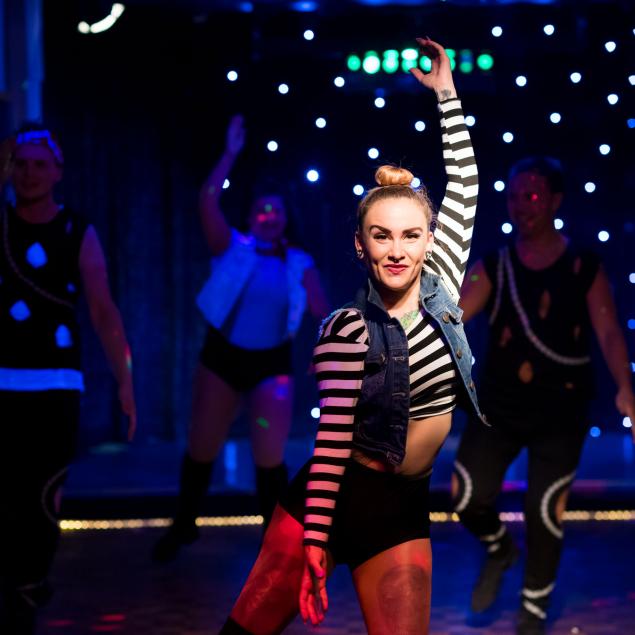 Let us Entertain You!
'Daytime, Kid's time!' Our Kid's Club is on every morning 10am – midday throughout the season. Bring the kids along to see what Woolly gets up to during the day! Click here to see What's On during your stay. 
Every night is different at the Woolacombe Sands Holiday Park, with exciting entertainment for children and adults.
The children can have their own fun in the Woolly Bear Club, party dances with Woolly Bear, games, magic shows, face painting, talent and fancy dress competitions. 
Our Entertainments Team have lots of enthusiasm and great idea's to keep you and your little ones entertained, from kid's entertainment through to the adults with some great giveaways and chances of winning a free holiday! Visit our What's On Page for more information on the entertainment schedule.
Our family friendly Clubhouse has FREE WiFi, and a family orientated space close to Woolly's Shack and the arcades.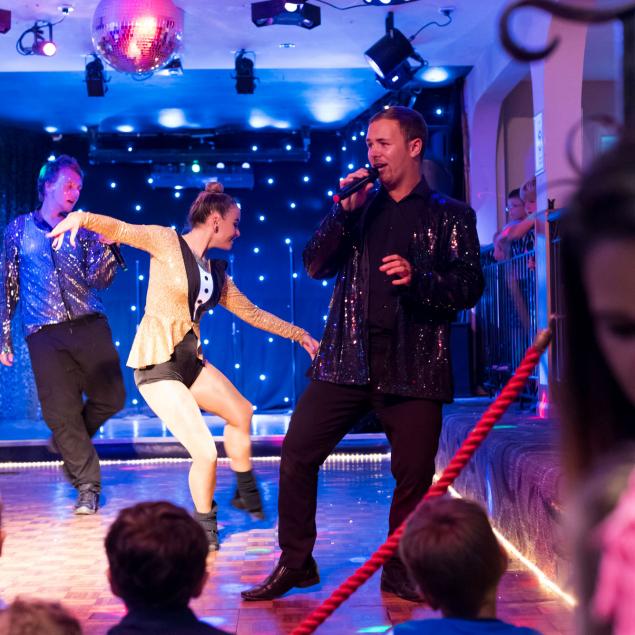 Club Food
Our food bar offers a wide selection including jacket potatoes, loaded chips, fish, burgers & much more – all to eat in or take away.

Every year we ask our guest's what their favourite meal's are on our menu to ensure we bring it back for the following season. 

Here below, we give you our 2021 menu! 
Please note food menus may vary from season to season. We are fully compliant with the 'Food Law' updated to reflect changes made with 'Natasha's Law'. Please click here for more information.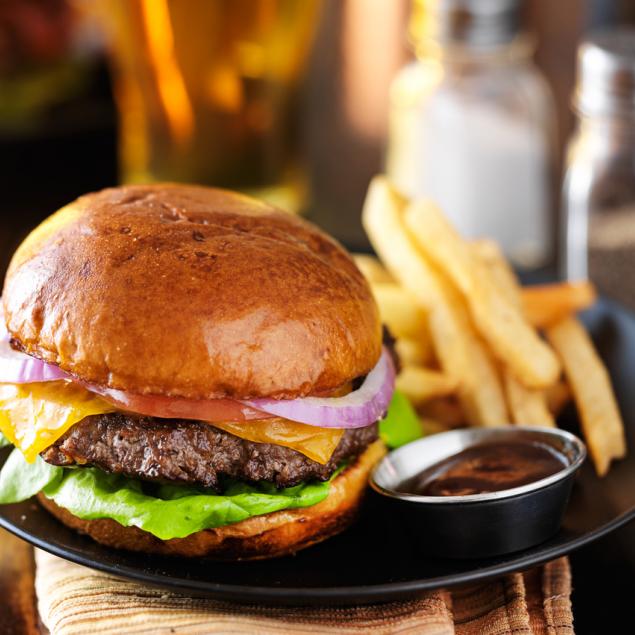 Loyalty Cards, Celebrations and Happy Hour!
Customer loyalty card. If you've been before or booked to come again, you will have the privilege of a Loyalty card. The offers will be displayed on the plasmas in the club, reception and arcade. These will include food and drink, shop purchases and discounts off your next holiday! Ask the Reception staff for the 10% discount code for online ordering. 

Happy Hour!
Happy hour is every day between 5:00pm - 6:00pm - selected drinks starting at £2.50 & £3.00! Bargain!

Special Occasions
Do you have a party or special occasion you'd like to celebrate whilst staying with us? We will make the occasion one to remember with our party planning. Just ask for a Club Manager on arrival who will be happy to help you or email [email protected] for further details!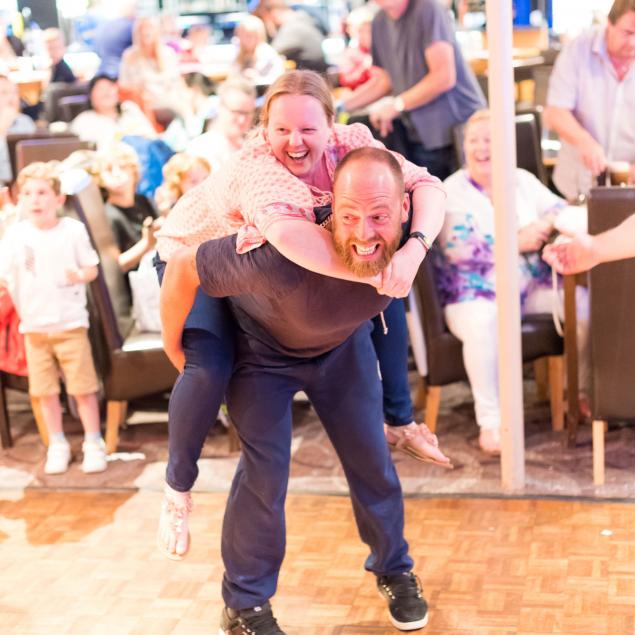 We stock local booze! 
Crafted and distilled in North Devon, Pull The Pin Rum is not only the most exciting infused rums to hit the British Rum scene, but a name with a message. A metaphor for life: follow what's good and Pull The Pin on what's not. Live life to the full, celebrate what is great! This is the foundation of the company and is remembered every time a bottle is created. 
Army Commando Tom met Physiotherapist Kerry in the military and they discovered a shared enthusiasm and vision for the future. Guided by passion they have created something quite amazing. The attention to detail and the need to pursue perfection are the qualities that enabled these two to fulfil their aim of making amazing tasting Rums in an iconic bottle.
A Spiced Rum, so warm and smooth it is a delight over ice. A perfectly balanced spice blend that lifts your favourite mixer to new heights and gives any Rum cocktail an extra taste sensation and dimension. A rum that is always the right decision.
Light fruity Rums, blended to perfection for a taste sensation and a new take on Rum. A Silver Passionfruit and Pineapple Rum and a Pink Raspberry and Strawberry Rum. Light and refreshing to mix well with a tonic of your choice, a lemonade with ice or as the perfect addition to a fruity cocktail.
Pop to our Bar & Clubhouse now to grab yourself a glass, or if you fancy the whole bottle - buy one from the on-site Shop!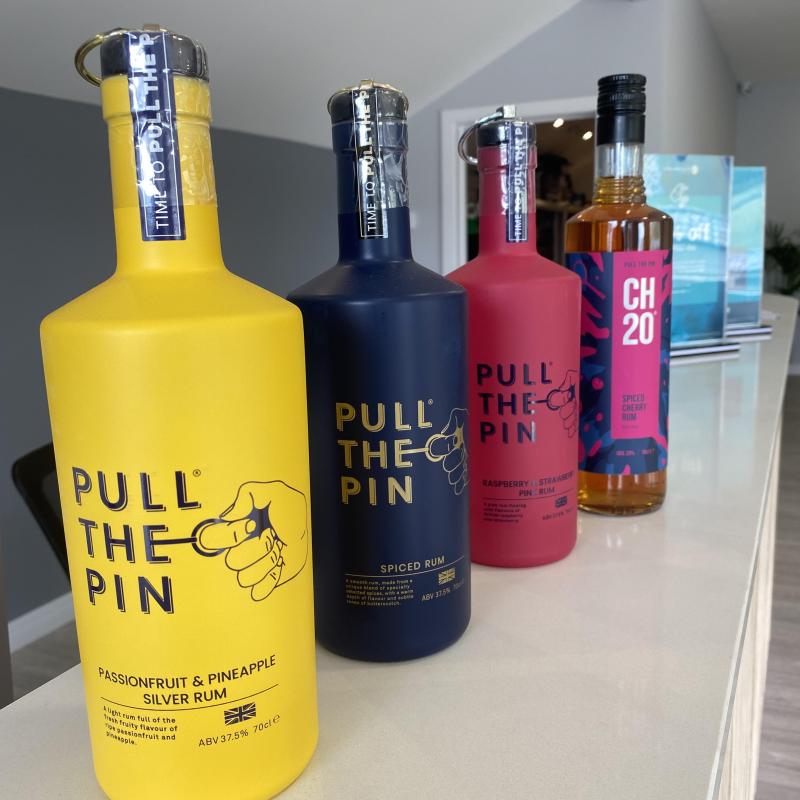 We stock local booze! 
We are now proud to stock local Red Rock Brewery ales! Served in our bar if you fancy a pint, or gift sets available from the Shop if you want to take a bottle & branded glass home.
"Based in a quiet corner of sleepy south Devon, nestled in the hills outside Bishopsteignton, we make our extensive range of traditional cask real ales, using not only the finest natural ingredients but also the farm's pure spring water. It is this that give our beers their individual characters." - Red Rock Brewery website."