From flip-flops to brollies, soft toys to groceries, you can pick up everything you need at our shop!
General Groceries
We have general groceries ranging from fresh fruit and vegetables, fresh meat and barbecue, fresh bread, bakery, cakes and pastries, frozen foods, wine, beers and spirits, and general cooking and ready meals. For quick-cook campers, we have expanded our 'snack meals' range with new products for 2021!
Breakfast, Lunch AND Dinner
Enjoy tasty hot and cold food from the 'Grab & Go' for morning breakfast rolls or afternoon snacks. 
The shop also offers breakfast, lunch and dinner with its new kitchen. Why not sample one of our famous breakfast baguettes? They are delicious! AND available until 4pm!
Please click here for our Allergen information
Camping and Touring Equipment
Inside the shop you'll find a camping area for all your camping and touring needs including rock pegs for our hard standing pitches, Calor Gas bottles, utensils, dinner sets and picnic! We have expanded our Camping & Touring range for 2021 which now includes: gas regulators, coaxial TV aerial leads, main extension hook up leads, USB plug sockets, travel accessories such as hair dryers & hair straighteners, portable flushing toilets and much more!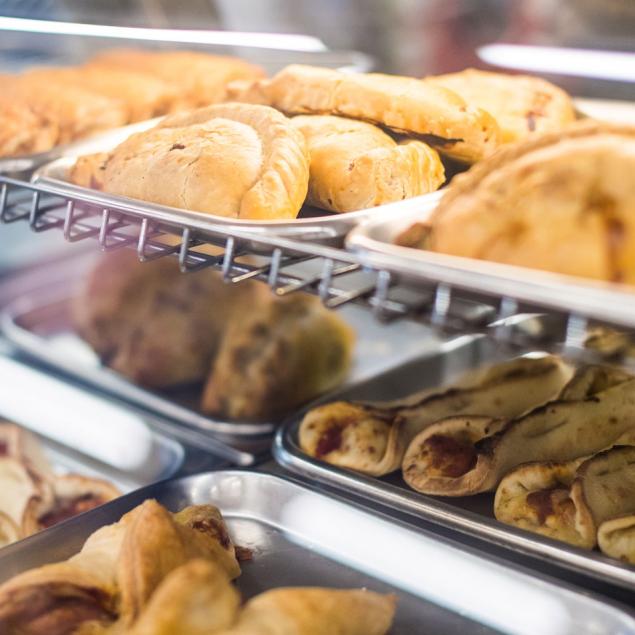 Gifts
There are gifts for everyone in our shop! For children we have keyrings, pens and pencils, Woolly Bear merchandise, watches, jewellery, lunch boxes and trinkets. For the adults we have bottle openers, plaques for your homes, candles, soaps, cups, keyrings, cushions, coasters and glasses. We also have shortbread and fudge gift sets - delicious!
Gluten Free Selection
The shop has a good selection of gluten-free foods available. Spaghetti, sweets, pasta, cereal, curry sauces, chocolate, biscuits, peanut butter, jam and so much more. If you feel there is anything else that we could add to our gluten free range which would be helpful to our customers, please do not hesitate to let us know - we are here to make your holiday as easy and relaxing for you as possible. Don't forget - we have Gluten Free options on our Shop takeaway menu too!
Stationary and Book Swap
Are you a book worm? Now is the time to kick back, relax and dig into a novel. In the Shop/Reception, we have a book swap area where you can bring some old books that you have read repeatedly and swap them for something new! Or if you would like to keep your books, you can make a small donation if you see anything that tickles your fancy.
We also provide a range of newspapers, magazines and stationary, along with postcards, stamps and the National Lottery and scratch cards.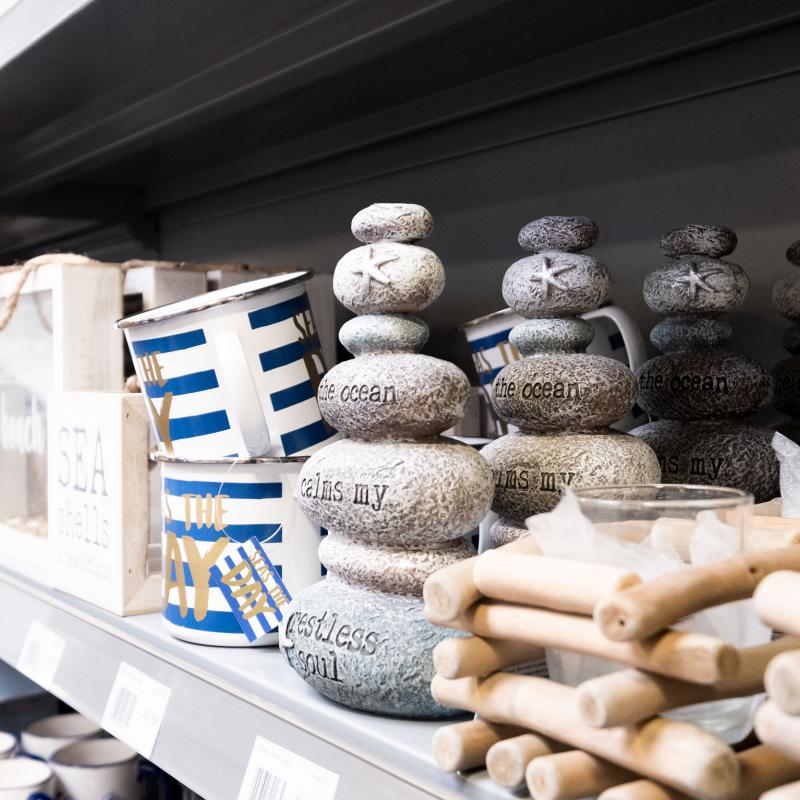 Rainy Day
These items don't have to be for a rainy day but they are certainly great for those 'indoors with a cuppa' weather days! We have a range of children's colouring books, ranging from dinosaurs, under the sea, funny faces, and we also have books for adults such as word searches, puzzle books and colouring patterns. We also have games for the whole family to enjoy. Woolly's Kids Club will be running whatever the weather but if you fancy an afternoon in your pj's with a hot cup of tea then these items are just perfect.
Beach & Swimming
If you need it, we have it! We have everything you could possibly want for your trip to the beach including beach mats, pop up shelters, towels, rubber rings, fishing nets for visiting the rock pools at Barricane Beach, swimming caps, flip-flops, swimming costumes, beach balls, Frisbee's, sun cream and don't forget buckets, spades and body boards! If you've forgotten your swimming costumes or shorts, don't panic! We have a great range of adult and child swimwear available to purchase.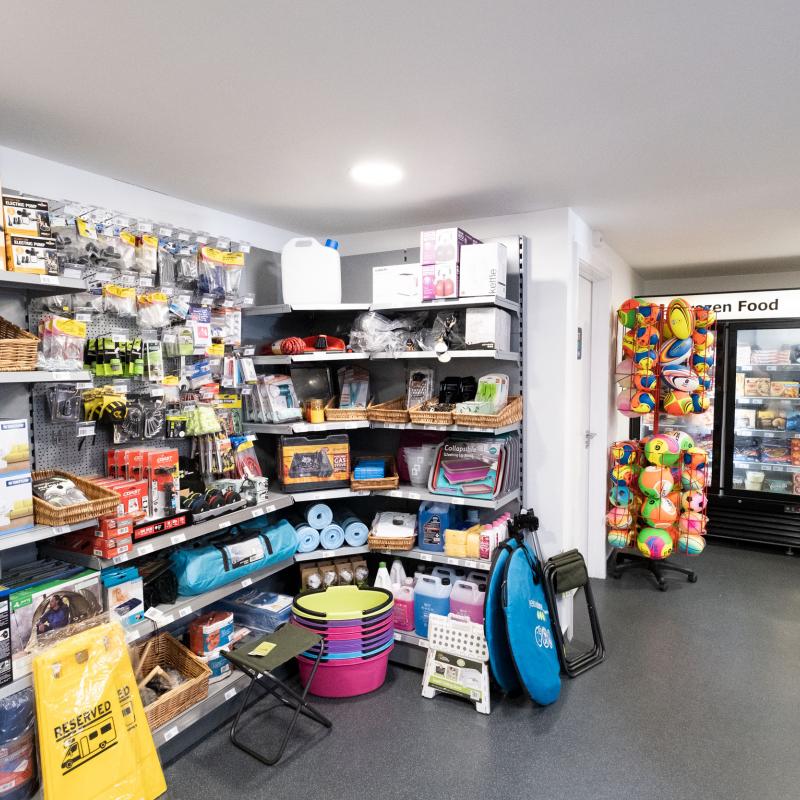 Stick of rock
"Bring us back a stick of rock" is a familiar phase said by family, friends and work colleagues before you go for your holiday by the seaside, so don't disappoint them! We have some fairly unique flavours in store: mojito cocktail, prosecco, pink mint, candy floss, fruit salad, fizzy cola, fruity rainbow, raspberry ripple, humbug, liquorice allsorts, salted caramel and blue raspberry. Let us know which one is your favourite!
Dog Accessories
We have all done it, rushing around before our holiday trying to remember everything before you go and trying to get on the road to beat the traffic. Only to turn up at the holiday park, unpack…and find you've forgotten the dog bowl! Don't worry, we have a dog section in the shop which contains bowls, food, treats, blankets, balls and leads.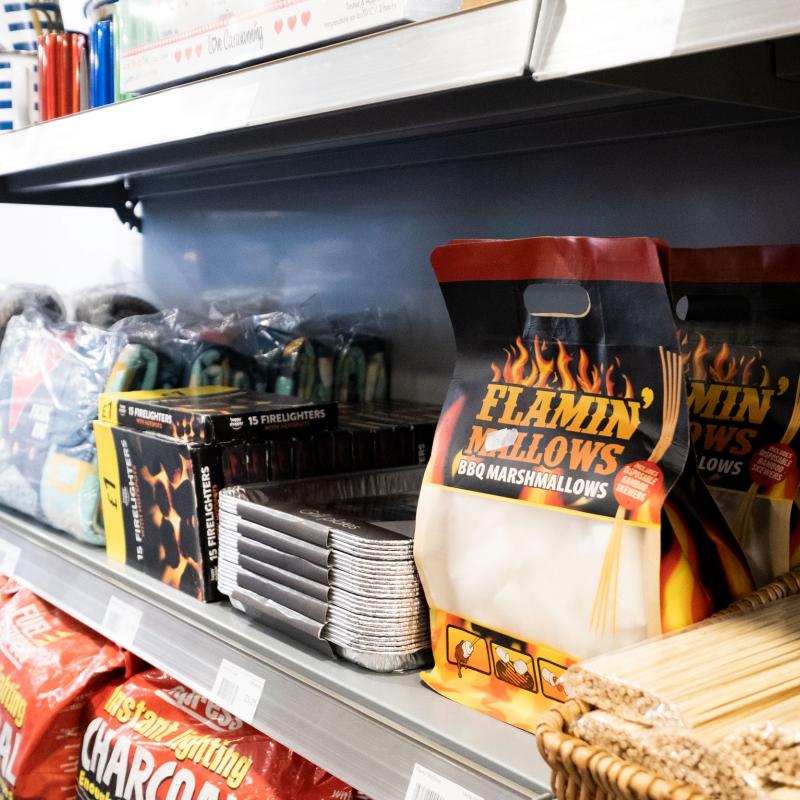 Starter Pack
Why not take the stress out of arriving and order a starter pack? This will be available to collect on arrival and includes all your essentials such as tea, coffee, milk, sugar, butter, bread, toilet roll, tea towel, washing up liquid and more – all for just £20. Just add it to your booking when booking online or mention it if you call up to book.
Woolly Bear
Whether it is your first time at Woolacombe Sands or your 10th visit to us, we hope that Woolly Bear will always remain a big part of your family's life helping create memories that won't be forgotten. We have a range of Woolly Bear merchandise which can be purchased in our shop as a souvenir including T-shirts, hoodies, onesies and lunch boxes which would be great to take to school! We also have pencil case's and pens, notepads and, if your little one loves Woolly Bear's party dances, you can buy the party dances CD in the shop!
Can't see what you're looking for? Why not call the shop direct with any questions 01271 870569 ext. 07
We regret Supermarket-Chain or food & drink deliveries are not permitted on site. Any unauthorized vehicles entering Woolacombe Sands Holiday Park will be immediately asked to leave, at no responsibility of loss of groceries, to Woolacombe Sands Holiday Park.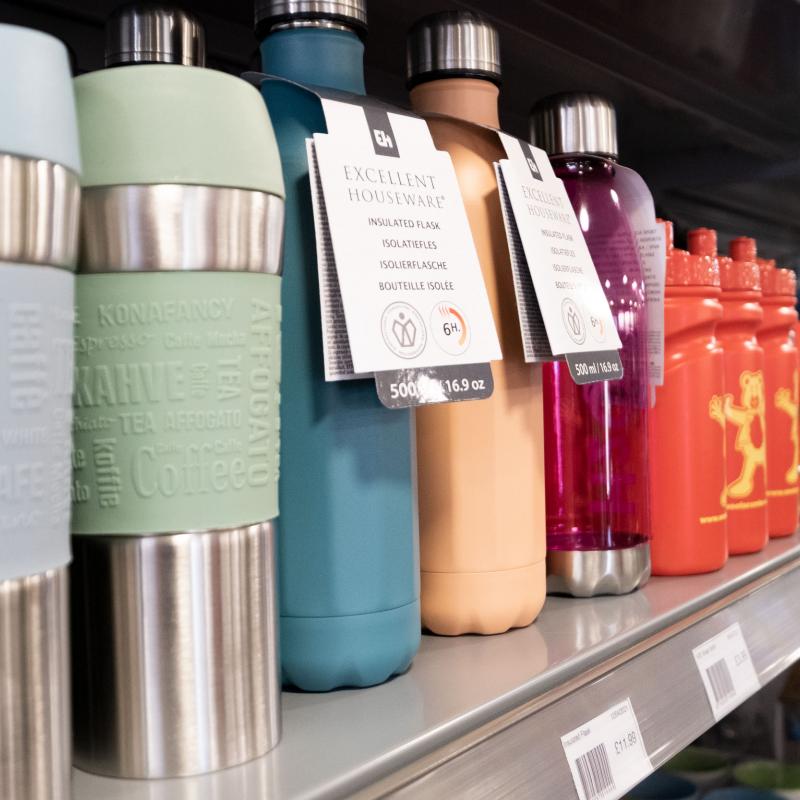 We stock local booze! 
Crafted and distilled in North Devon, Pull The Pin Rum is not only the most exciting infused rums to hit the British Rum scene, but a name with a message. A metaphor for life: follow what's good and Pull The Pin on what's not. Live life to the full, celebrate what is great! This is the foundation of the company and is remembered every time a bottle is created. 
Army Commando Tom met Physiotherapist Kerry in the military and they discovered a shared enthusiasm and vision for the future. Guided by passion they have created something quite amazing. The attention to detail and the need to pursue perfection are the qualities that enabled these two to fulfil their aim of making amazing tasting Rums in an iconic bottle.
A Spiced Rum, so warm and smooth it is a delight over ice. A perfectly balanced spice blend that lifts your favourite mixer to new heights and gives any Rum cocktail an extra taste sensation and dimension. A rum that is always the right decision.
Light fruity Rums, blended to perfection for a taste sensation and a new take on Rum. A Silver Passionfruit and Pineapple Rum and a Pink Raspberry and Strawberry Rum. Light and refreshing to mix well with a tonic of your choice, a lemonade with ice or as the perfect addition to a fruity cocktail.
Pop in to the Shop to grab yourself a bottle, or if you just fancy the one glass - visit the Bar & Clubhouse!