Welcome to the Hub of Woolacombe Sands Holiday Park!
During the evenings, the Clubhouse is 'the' place to be for a great night of family-friendly entertainment. Let loose and enjoy some music, dancing, first-class cabaret, cash bingo, game shows, and quizzes. This is the perfect rendezvous to unwind, kick back and make new friends. And if you fancy a bite to eat, there is a great selection of tantalising dishes to try. For those of you with a sweet tooth, we've got you covered with a selection of delicious desserts.
After all, you are on holiday - indulge a little!
The Perfect place to Unwind...
The Clubhouse and Bar has a contemporary and relaxing indoor dining area, with comfortable seating and booths to sit, relax and enjoy the entertainment. You can walk out of the Clubhouse straight onto the sun terrace, where you can relax outside, taking in our breathtaking views over Woolacombe.
When entering the Bar & Clubhouse, simply find a table and make your way to the bar to place your food or drinks order. We politely ask that only one member from each group approaches the bar & food bar when placing an order to minimise congestion.
Unfortunately, tables cannot be reserved and will be available on a 'first come, first served' basis.
Live cabaret is scheduled every night throughout the season, and Woolly Bear visits every night to say hello! Well behaved dogs on a lead are welcome in the Clubhouse at all times.
Check out the 'What's on' Page for daily entertainment information.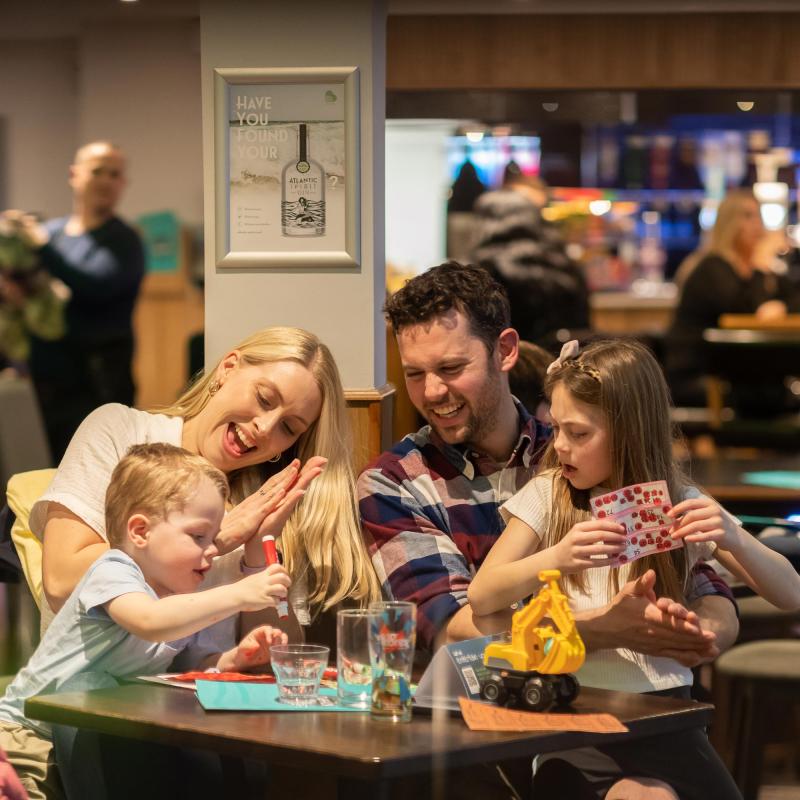 Let us Entertain You!
'Daytime, Kids time!' Our Kid's Club is scheduled every morning (excluding Monday & Friday) from 9am to 10:30am throughout the season. Bring the kids along to see what Woolly gets up to during the day! Click here to see What's On during your stay. 
Every night is different at Woolacombe Sands Holiday Park, with exciting entertainment for children and adults.
Children can have their own fun in the Woolly Bear Club, party dances with Woolly Bear, games, magic shows, face painting, talent and fancy dress competitions. 
Our Entertainment Team have lots of enthusiasm and great idea's to keep you and your little ones entertained, from kids entertainment to adults entertainment with some great giveaways and chances of winning a free holiday! Visit our What's On Page for more information on the entertainment schedule.
Our family friendly Clubhouse has Free WiFi, a Sky Sports package and an action packed arcade nearby.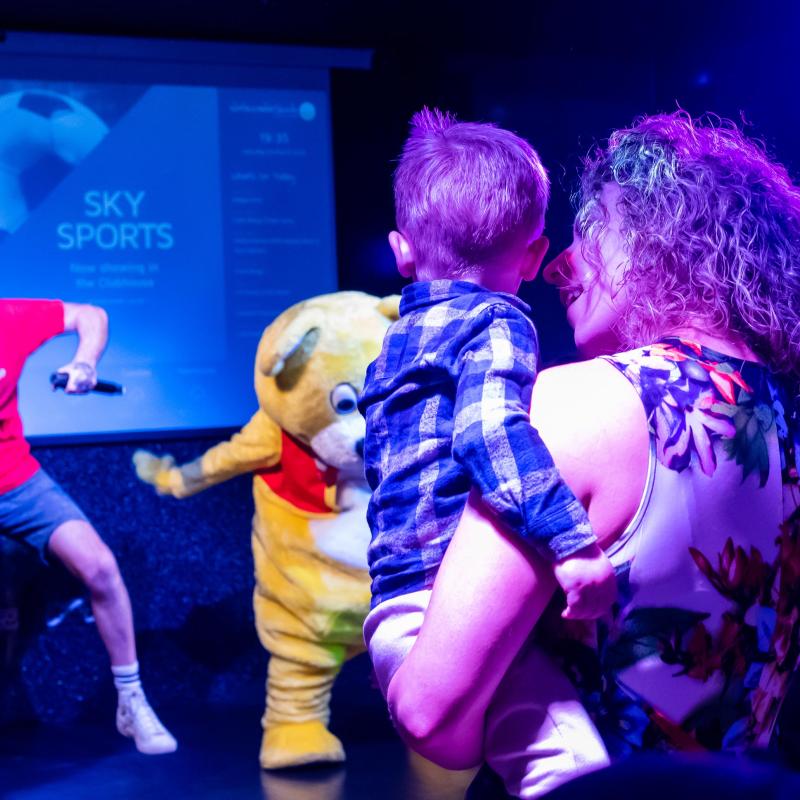 Clubhouse Food
Our food bar offers a wide selection of mouth-watering dishes including jacket potatoes, loaded chips, pasta, burgers & much more – all available to eat in or take away.

Every year we ask our guests what their favourite meals were from our menu to ensure we bring it back for the following season. 

View our new 2023 Clubhouse menu here
Please note food menus may vary from season to season. We are fully compliant with the 'Food Law' updated to reflect changes made with 'Natasha's Law'. Please click here for more information.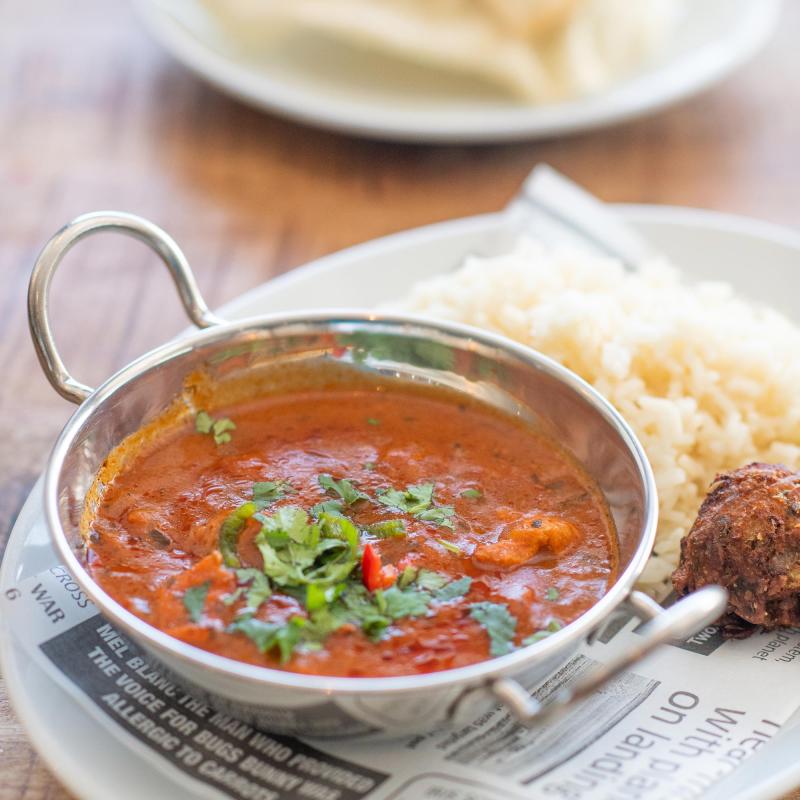 Happy Hour!
Take advantage of our very popular Happy Hour!
5pm - 6pm daily
Selected drinks starting from £3 - Bargain!
Special Occasions
Do you have a party or special occasion you'd like to celebrate whilst staying with us? We will make the occasion one to remember with our party planning. Just ask for a Club Manager on arrival who will be happy to help you or email [email protected] for further details!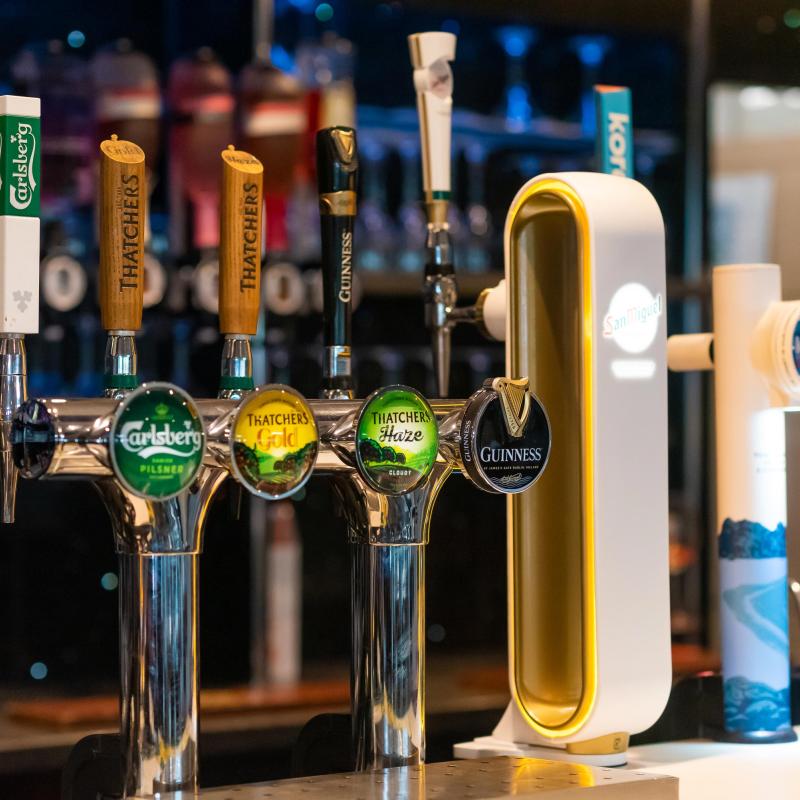 Local produce... 
Crafted and distilled in North Devon, Pull The Pin Rum is not only the most exciting infused rums to hit the British Rum scene, but a name with a message. A metaphor for life: follow what's good and Pull The Pin on what's not. Live life to the full, celebrate what is great! This is the foundation of the company and is remembered every time a bottle is created. 
Atlantic Spirit Gin is distilled locally in Bideford, North Devon. Micro-batch DISTILLED on the Atlantic coast with locally foraged ingredients. Hand crafted artisan gin, distilled in our alembic Copper Pot stills with only 120 bottles per batch.
Navas drinks was created to provide a different kind of experience. Mixers focused on balancing ingredients, not overpowering with fad flavours. They match their love of craft drinks with the best modern business practices, becoming more and more sustainable. They aim to be mixing with the best and shouting loudly about the quality of ingredients and drinks found in and around Cornwall. Navas drinks supports the Eden Project in our shared aims of promoting understanding and responsible management of the environment, the relationship between plants, people and resources, leading to a sustainable future for all. They are donating 2% of each bottle to this objective, and look forward to funding some incredible campaigns with the Eden Project. 
Pop to our Bar & Clubhouse now to grab yourself a glass, or if you fancy the whole bottle - buy one from the on-site Shop!